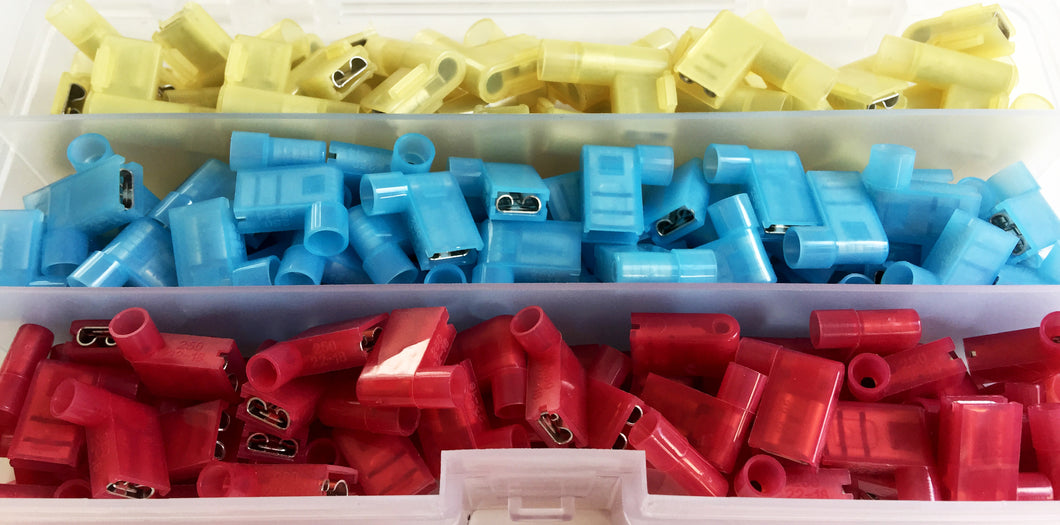 AIRNIX TERMINAL 180 Piece Nylon Insulated Female Flag Disconnects Crimp Terminals Set 70 Red 22-16ga, 70 Blue 16-14ga, 40 Yellow 12-10ga .250x.032 Tab
Regular price $22.00 Sale
70 Red 22-16ga, 70 Blue 16-14ga, 40 Yellow 12-10ga organized in a quality reusable storage case
 No Soldering Crimp installation for quick, dependable connections every time.
Molded Nylon Insulation extends beyond the sleeve to ensure complete insulation between wire and terminal.  Color coded and stamped with wire gauge to easily  find the size for your wire gauge.
Grooved barrels for maximum wire holding strength and minimizes the likelihood of pullouts.   Chamfered or funnel barrel openings for easy wire insertion.
70pc Red Female Disconnect 22-16 AWG 10A
70pc Blue Female Disconnect 16-14 AWG 15A
40pc Yellow Female Disconnect 12-10 AWG 24A
The Female Flag Disconnect fits snuggly into the matching male housing (not included), resulting in a insulated in-line splice that may be connected and disconnected without damage.
AIRNIX Nylon Insulated Crimp Terminals are made of tin-plated high grade copper or brass for the best possible connection. Wire entry design with chamfered barrel, molded Nylon insulating sleeve. Color coded for simple gauge identification.