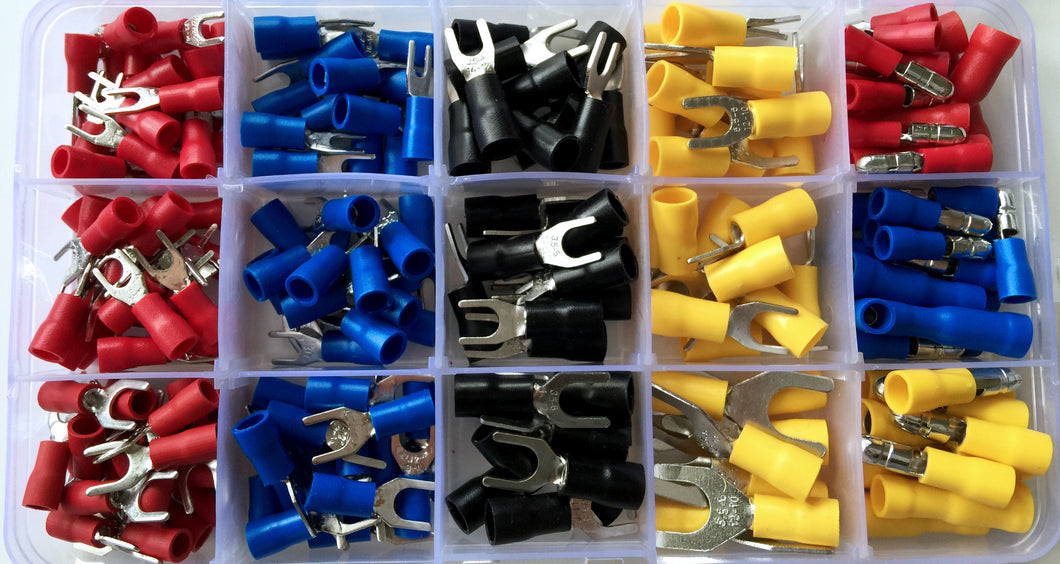 AIRNIX TERMINAL 200 Piece Crimp Spade Fork and Bullet Connector Set Assortment Vinyl PVC Insulated
Regular price $18.00 Sale
60pc Red Forks 22-16 AWG 3 Sizes Fit Studs #4, #8, #10
45pc Blue Forks 16-14 AWG 4 Sizes Fit Studs #4, #6, #8, #10
30pc Black Forks 14-12 AWG 3 Sizes Fit Studs #8, #10, 1/4
27pc Yellow Forks 12-10 AWG 3 Sizes Fit Studs #10, 1/4, 5/16
7pc Red Male Bullet (Snap Plug Receptacles), 7pc Red Female Bullet (Snap Plugs) 22-16 AWG
7pc Blue Male Bullet (Snap Plug Receptacles), 7pc Blue Female Bullet (Snap Plugs) 16-14 AWG
5pc Yellow Male Bullet (Snap Plug Receptacles), 5pc Yellow Female Bullet (Snap Plugs) 12-10 AWG
AIRNIX Solderless Vinyl PVC Insulated Terminals are made of tin-plated high grade copper for the best possible connection. Wire entry design with chamfered barrel, molded PVC insulating sleeve. Color coded for simple gauge identification.

Spade Terminals allow conductors to be released or adjusted without completely removing the retaining screw. Snap Plugs (or Bullet Connectors) are fully insulated and precision engineered. The female terminal fits snuggly into the matching male housing, resulting in a fully insulated in-line splice that may be connected and disconnected without damage.
Unique variety of Spade (Fork) Terminals and Bullet Connectors in convenient case for portability.

These solderless crimp terminals are made from high grade copper with a added tin plating for corrosion resistance. No Soldering Crimp installation for quick, dependable connections every time.

Molded PVC Insulation extends beyond the sleeve to ensure complete insulation between wire and terminal. Color coded to easily find the size for your wire gauge.

Grooved barrels for maximum wire holding strength and minimizes the likelihood of pullouts. Chamfered or funnel barrel openings for easy wire insertion.