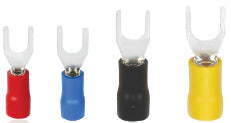 AIRNIX TERMINAL SV 2-4 BLUE SPADE "FORK", CRIMP, PVC INSULATED
These solderless crimp terminals are made from high grade copper with a added tin plating for corrosion resistance. No Soldering Crimp installation for quick, dependable connections every time.
Molded PVC Insulation extends beyond the sleeve to ensure complete insulation between wire and terminal. Color coded to easily find the size for your wire gauge.
Grooved barrels for maximum wire holding strength and minimizes the likelihood of pullouts. Chamfered or funnel barrel openings for easy wire insertion.